Fine Woven Patches
If you have intricate details in your custom patch design, fine woven patches may be for you. Custom made fine woven patches are able to reveal much finer details in custom patches than embroidery. As such, you can see the sharper outlined details that fine woven patches are known for.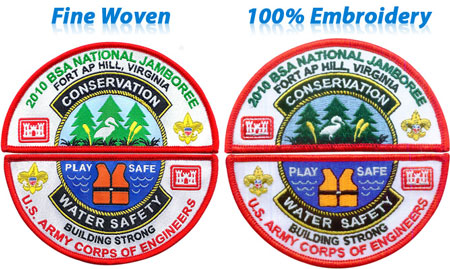 Take a look at the details in the fine woven patch compared to the embroidered. The differences can be astounding.
At 247Patches.com, our staff consists of 15 highly skilled patch artists who work closely with you and the sales staff, assisting with designing your fine woven patch. As soon as you give one of our sales associates the information needed to start the quote process, they hand your design details off to an artist. This allows you to have your fine woven patch design sent to you within hours. With over 15 years of experience, we have refined the process of custom designing fine woven patches.
Other 247 Made to Order Products